Introduction
Easily Manage the Evaluations Process
The Evals hub is structured to simplify and automate the process of tracking, calculating, and reporting evaluations and metrics data. This innovative hub allows districts to move their traditional evaluations process to a comprehensive dashboard, as well as integrating mandated standards efficiently. The Evals hub is bringing live collaboration, thorough accountability, and customizable data tracking to schools and districts in an easy to use manner.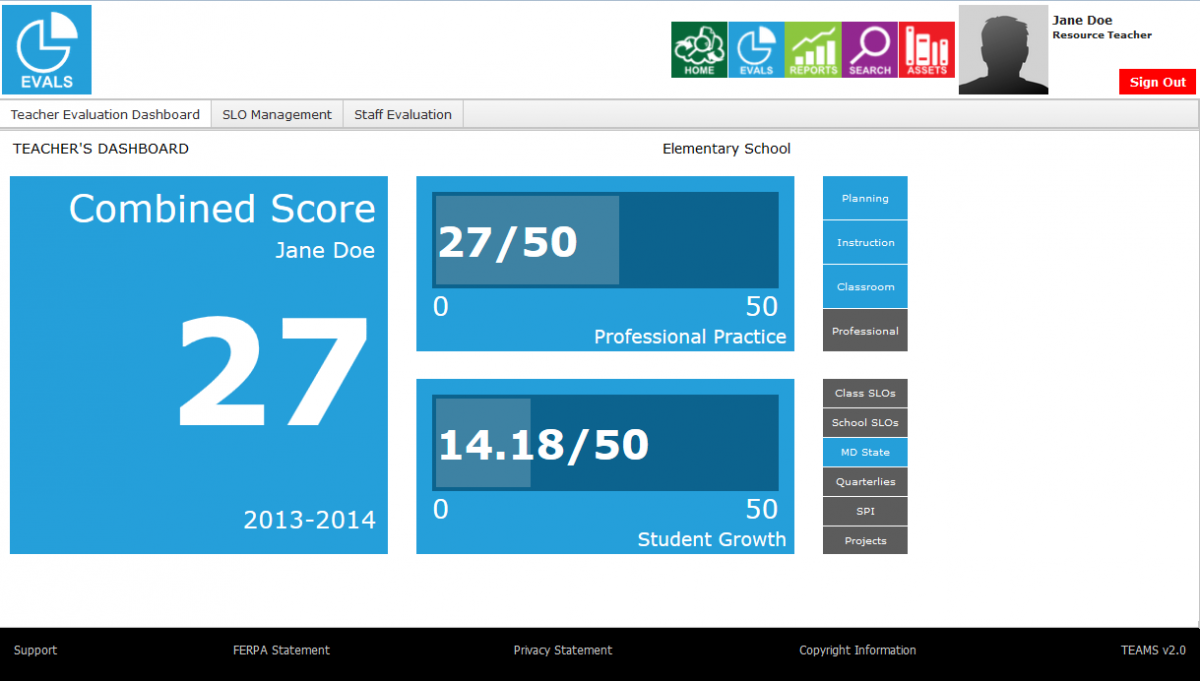 Teacher Evals and Student Learning Objectives (SLOs)
SLOs are created by teachers and then submitted for review by administrators, allowing administrators to provide prompt feedback or approval. Principals and school officials have access to submitted and reviewed SLOs, allowing them to keep track of each teacher's objectives and proposals. Additionally, SLOs can be exported and turned into agreements when the teacher signs them. Full history tracking per-SLO is included.
Scoring Made Easy
Qualitative assessments (Professional Practice assessments) are based on observation of your teacher's classroom performance, while quantitative (Student Growth) evaluations are based on performance. Tenured teachers may not be evaluated in every category. The Evals hub is structured to recognize these differences, allowing it to calculate and align results in a precise manner. The Evals hub also offers evaluation of principals, based on school or district supplied performance evaluation criteria using any evaluation model such as Charlotte Danielson, James Stronge, or a custom model that you define.
Customizable Performance Evaluations
Our goal is to work with your school district to adapt the Evals hub in a way that fits your desired usage, all while integrating state or federally mandated criteria. The Evals hub offers a way to get through the in-depth and multi-faceted evaluations process with as little effort from the end user as possible and provide transparency to the process.
Contact us for more information about TEAMS!
Teacher Evaluations
The Evals Hub includes tools that allow teachers to carry out their side of employee and performance evaluations, along with dashboards that provide them with a summarized view of their evaluations data. Teachers can use the Evals Hub to access all of the tools and capabilities needed in their district's evaluations processes, easily, quickly; and at any time.
Principals and teachers can work together to complete mandatory evaluations and reflection exercises through the Evals Hub. Full auditing and comments are provided in order to provide transparency to designated personnel.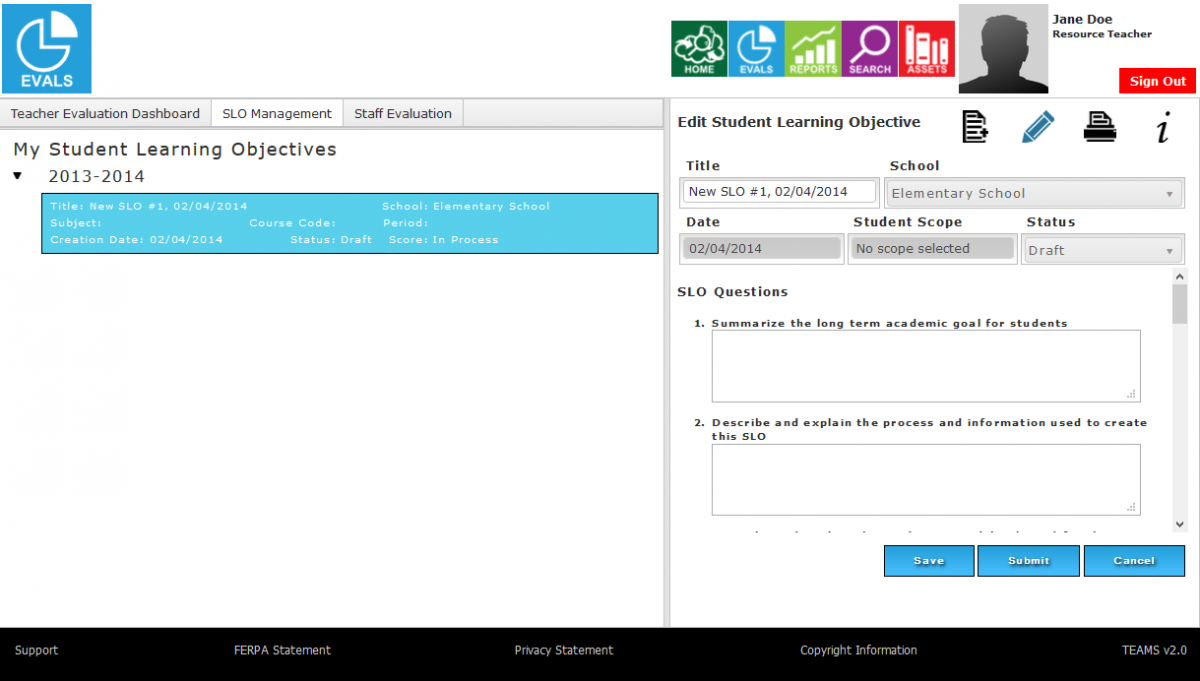 Principal Evaluations
Principals can use the Evals hub to conduct, monitor, and keep track of all aspects of their school's evaluations processes. This includes management and review of teacher evaluations and SLOs, school improvement planning and collaboration, and principal performance evaluations.
Conducting annual evaluations can be fully tracked and monitored by principals. The Evals hub offers a way for principals to directly communicate with teachers and staff, allowing them to provide prompt feedback at the click of a button.
Principals have access to dashboards that cover the scope of all the information that they need to access quickly at any time – this includes dashboards for their school, as well as for their principal evaluation data. This dashboard view helps the principal to reflect on their performance, as well as their school's overall performance, at any time.
Staff Evaluations
All staff in your school can be evaluated using the Evals Hub. Staff evaluations allow schools to conduct observations and evaluation workflows with a member from any department. The requirements for staff evaluations can be customized by school districts, and we will work directly with you to customize staff evaluations to fit your needs.